The Monkeys and the Gardener Story – Story for Kindergarten Students:-Once upon a time, there was a hardworking farmer who owned a vast farmland near a dense forest. He worked on his field every day to grow different crops and vegetables. He enjoyed his work, and the fruits of his labor were always worth it. One day, he noticed a group of monkeys living in the nearby tree, watching him as he worked.
As the days went by, the monkeys became more curious about the farmer's work. They observed him carefully as he fetched water from the nearby river and watered his plants. Surprisingly, the monkeys started copying the farmer and began to carry water to the fields to water the plants.

One day, the farmer had to go to a nearby village for some urgent work. So, he called the monkey leader and asked him to water the plants for that day. The monkey leader was a bit worried and asked, "How will I know which plant needs more water and which plant needs less?"

The farmer smiled and said, "It's easy. You just have to check the size of the plant's roots. If the roots are thick and big, the plant needs more water, and if the roots are thin, the plant needs a small amount of water."
The monkey leader nodded his head and agreed to do as the farmer said. The farmer left for the village, and the monkey leader began watering the plants just like the farmer did. He checked the roots of each plant and gave them the right amount of water they needed.

After a few days, the farmer returned to his farmland and got a shock of his life. All the plants had been pulled out of the ground and lay on the field. He asked the monkey leader, "Why did you do this?"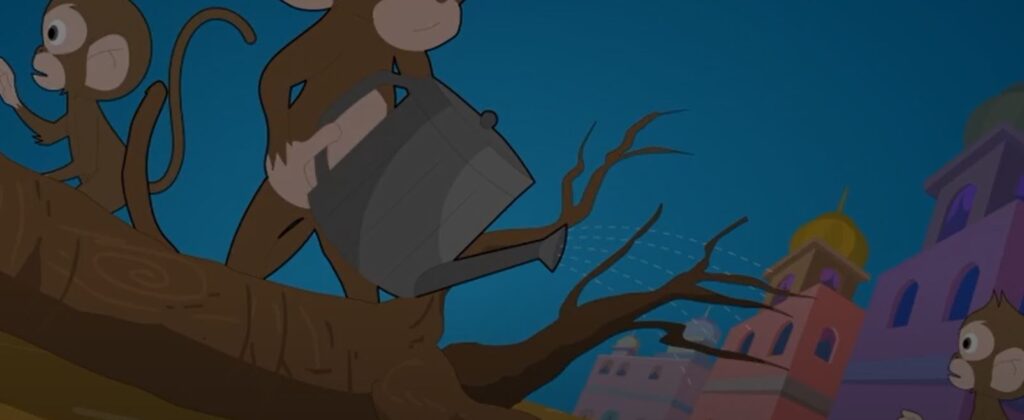 The monkey leader replied, "We wanted to check the roots of the plants, just like you said. So we pulled out the plants to see which ones had thick and big roots and which ones had thin roots."